A new task mode, benchmark mode, has been added since build 4210. In this mode, MediaCoder can be used to benchmark your hardware with media transcoding based on the your transcoding settings. During the process, the media content will be transcoded as in normal mode. The difference is there is no file created on hard drive and a benchmark result will be shown on the end of the procedure.
The steps to perform transcoding benchmark are as simple as following:
Add files used for benchmarking
Set up transcoding parameters
Set task mode to "Benchmark"
Click Start button to start benchmarking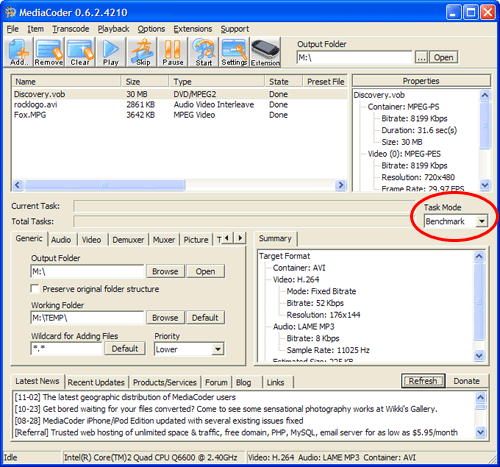 The benchmark results include following data:
Time elapsed – the time the whole benchmarking process takes
Total content duration – the total playback time of all the files transcoded for benchmarking
Total files – number of files transcoded for benchmarking
Encoding speed – the average transcoding speed (versus 1x playback speed)
Encoding frame rate – the average transcoding frame rate (frame per second)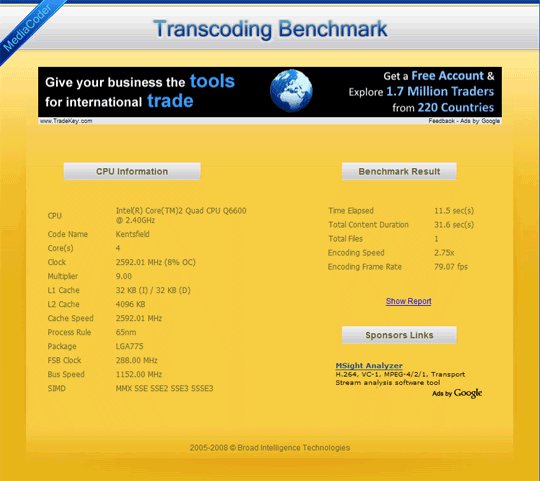 It should be a common knowledge that the results obtained on different systems are comparable only with the same transcoding settings and the same group of files for benchmarking.